Today technology plays a pivotal role in our personal and professional lives. And with more people working remotely or hybrid, it blurs the lines between our personal and business lives. We context switch moment to moment and now people routinely ignore their company's policies against using work computers for personal needs.
Why do we need BYOD for Laptops?
Do we really expect people to have two separate laptops open and running on their home desks? By actions, people are rejecting a two-computer life. It leaves IT teams wondering if their data is truly safe.
According to The World Counts, we generate around 40 million tons of electronic waste every year, worldwide.  That's like throwing 800 laptops away every second. An average cellphone user replaces their unit once every 18 months. E-waste comprises 70% of our overall toxic waste.
800 Laptops are thrown away every second. Think about that. With many workers having two laptops (one for personal and one for work), it's no surprise that e-waste has become a growing problem. But does it have to be this way?
We are seeing more and more companies looking to do better with their environmental initiatives. And in this post-Covid world where we have more remote and hybrid workers, we are seeing an emerging trend of more companies embracing Bring Your Own Device (BYOD) for laptops – also known as BYO-PC. This is good!
How does BYOD for Laptops work?
BYOD Laptops can benefit both companies and employees while also supporting sustainability efforts with a positive impact on the environment. Allowing an employee to use their device of choice for both personal and work can help employees with productivity and morale while it can help IT teams be more agile while also supporting a greener company initiative. For it to work, it's good to understand the impact of laptops on the environment, the role they can play in an organization, and some of the challenges that must be considered such as security and privacy.
Get Our Latest Blogs
Straight to Your Inbox
The Hidden Costs and Environmental Impact of Laptops
Laptops have become essential for work, education, and our own personal entertainment. The production and consumption of laptops is staggering. Last year, approximately 286 million PCs were shipped around the world. Unfortunately, the lifecycle of a laptop involves many hidden costs and environmental impacts that most people aren't even aware of. Here are three areas where we generate hidden costs: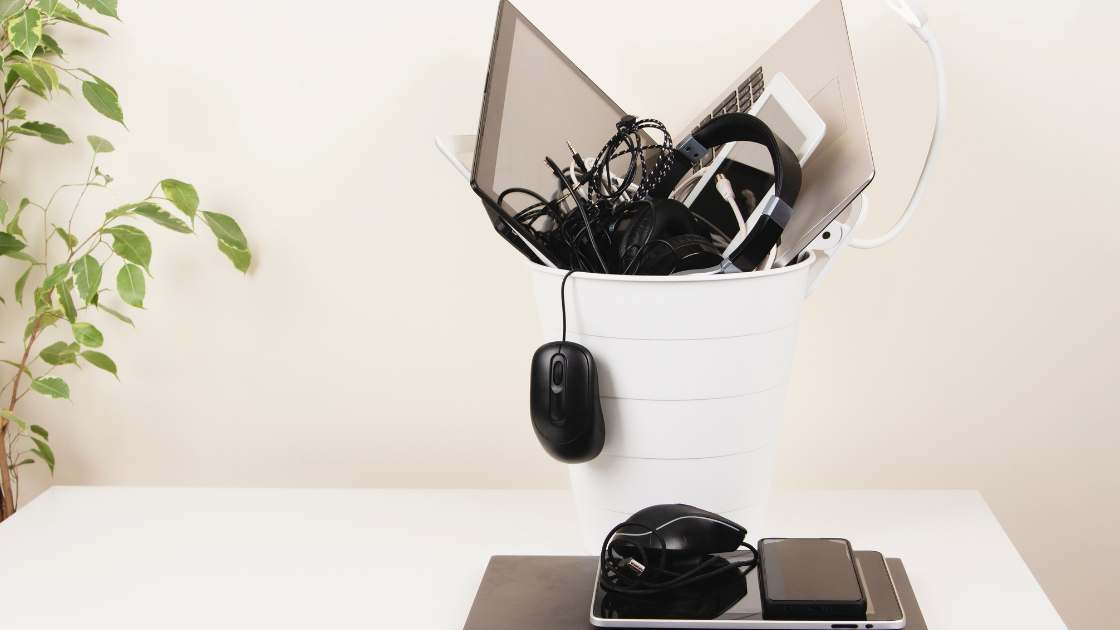 Manufacturing and Shipping:
Producing laptops is heavy on energy resources. Raw materials, manufacturing processes and transportation all contribute to an intensive consumption of valuable resources. According to Circular Computing, "More than 272 million new laptops are manufactured every year, making the IT industry responsible for as much greenhouse gas pollution as the entire airline industry. This equates to the IT industry contributing 2% of global carbon dioxide (CO2) emissions." Many companies ship laptops back and forth to their employees all the time both domestically and internationally. Supporting BYOD laptops is an area where companies can really have an impact on the environment.
E-Waste:
Technology is continually evolving making people and companies buy laptops more frequently. Laptops can become outdated quickly. And with employees often having two laptops – one for work and one for personal use, this just means we have more discarded laptops becoming e-waste. What materials are in laptops? Lead, mercury, cadmium, and plastics just to name a few. If not properly disposed of these toxic materials can pose serious risks to both our health and the environment.
Disposal Challenges:
Proper laptop disposal is crucial to prevent harmful chemicals from leaching chemicals into soil and water which can be harmful to people, animals and plants. Unfortunately, systems for managing e-waste are often insufficient which leads to improper disposal and often this hazardous waste is shipped to developing countries. There is also poor education on how to dispose of old laptops. Some are simply thrown in the trash unknowing of the risks. And sadly some are disposed of when there are many organizations out there that can recycle them safely or refurbish them for use by students who don't have computers at home.
The Role of Bring Your Own Device (BYOD)
Many companies have had BYOD policies for phones and tablets but now we are seeing companies create BYOD policies for laptops (BYO-PC) and allowing individuals to use their personal devices for both work and personal. By doing this, companies can benefit in two ways. They can increase productivity and flexibility while also supporting sustainability. For companies implementing BYOD, there is an opportunity for them to see both increased productivity and flexibility with employees as well as support their sustainability initiatives.
Cost Reduction:
Adopting a BYOD approach can alleviate the financial burden on businesses. Instead of purchasing and managing large quantities of new laptops, organizations can leverage their employees' existing devices. By doing this you can reduce the need for procuring, managing, and shipping laptops which can result in substantial cost savings.
Waste Reduction:
A great way to reduce waste is to reduce the demand for new laptops by allowing employees to use BYOD. This would translate into fewer laptops needing to be manufactured and therefore less would be discarded. Extending the life of existing devices vs buying new ones decreases the overall generation of e-waste. This also could indirectly reduce the need for as much raw material extraction, manufacturing, and shipping, resulting in lower carbon emissions.
Proper Disposal and Recycling:
When people use their own laptops, they are more likely to take responsibility for proper disposal or recycling. Companies allowing BYOD can use it as an opportunity to provide users with more education on the impact of e-waste and proper ways to dispose of a laptop once it has hit its end of life. There are many Companies like Apple and BestBuy that have made it easy to recycle laptops with in-store dropoffs.
BYOD IT Challenges and Considerations
While BYOD offers many advantages, it can create some challenges for IT teams, especially around security and privacy, that need to be addressed. These include:
Security and Privacy:
Organizations should have or create a BYOD policy that can support robust security. Depending on your organization you may need to protect sensitive data or meet specific compliance regulations. Employees' privacy on their devices also needs to be considered. Companies should communicate clear guidelines and make sure they have the right tools in place to mitigate potential risks associated with personal devices in order to keep their company data secure and prevent data loss.
Device Compatibility:
Does your company support both Mac and PC? Compatibility issues may arise when employees have a variety of devices to use for work. Having a flexible IT infrastructure and support team will be important.
Secure BYO-PC
As BYO-PC becomes an integral part of modern business, companies must develop and implement policies that allow employees to work from personally-owned devices both efficiently and securely. Balancing privacy, usability, and security can be complex, especially if an organization needs to protect corporate data and applications for compliance reasons.
Here at Venn, we have been working with many companies to help them implement Secure BYO-PC. They have been able to eliminate the need to ship laptops back and forth and we have helped companies meet even the strictest compliance regulations to keep their company data safe. Venn secures remote work on any BYOD computer. Similar to an MDM solution but for laptops – work lives in a company-controlled Secure Enclave installed on the user's PC or Mac, where business activity is isolated and protected from any personal use on the same computer. Employees can use their own devices without concerns about personal privacy.
To learn more about implementing BYOPC in your company – download our eBook: CIO's Guide to BYOPC.
Conclusion
The integration of BYOD policies for laptops gives organizations a great opportunity to support sustainability and make strides towards a greener future. Allowing employees to integrate their work and personal lives on one device of their choice can make for happier employees and reduce the burden on IT teams. With the workforce continuing to be more diversified with remote and hybrid work, we see many more companies embracing BYO-PC and we hope to see more companies climb on board with this agenda. It can be a crucial step towards creating a more sustainable and environmentally conscious society.